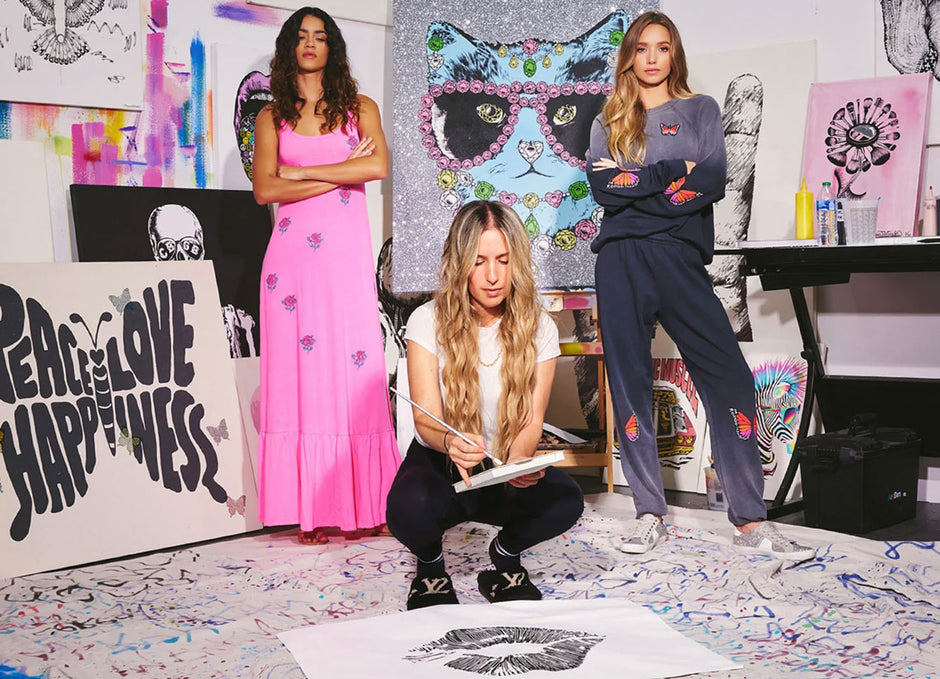 Our Story
Lauren Moshi is a brand that's widely renowned for its exceptional craftsmanship and creativity. The brand's founder and designer, Lauren Moshi, hand draws each design that's incorporated into the clothing line. As an alumni of Otis College of Art and Design, she has merged her love of fashion with her distinctive artistic style to create a collection that's truly unique.

The intricate designs featured on each garment reflect the level of craftsmanship and attention to detail that goes into every item. Our pieces are not only functional but also a work of art. Each piece is tailored to cater to the preferences of an audience that values and appreciates art.

One of the hallmarks of our brand is its commitment to quality. The brand sources only the finest materials, and each garment is crafted with great care by expert craftsmen in Los Angeles. The result is an ultra-soft feel and an unmatched level of comfort.
Our Story
We are committed to producing high-quality clothing that's designed and made in Los Angeles. Local, centralized production ensures that every piece is crafted with great care and attention to detail.

Our commitment to production supports the local economy, artisans and craftsman. By sourcing materials and producing each garment in Los Angeles, we strive to lessen our carbon footprint of the clothing industry.

The limited quantities produced are a reflection of commitment to quality over quantity. By producing a smaller number of each item, we ensure that every garment is crafted as its' own special piece. This ensures that each customer who purchases a Lauren Moshi item will own something that's truly unique and exclusive.
Our Approach
Lauren Moshi's clothing line offers a wide range of items that cater to every style preference. From tanks and tees to dresses and pants, every piece is thoughtfully designed and reimagined to showcase Lauren's artistry. It's this combination of art and fashion that sets the Lauren Moshi brand apart and makes it a top choice for those who value unique and well-crafted clothing.

The limited quantities and made in Los Angeles approach of Lauren Moshi's brand contribute to the brand's prestige and exclusivity. Every item produced by the brand is a reflection of the designer's unique artistic style and showcases the level of craftsmanship and attention to detail that's inherent in every piece.

We are a testament to the value of producing high-quality, limited-quantity clothing in Los Angeles. It's a brand that's dedicated to showcasing the intersection of art and fashion, and every piece produced is a work of art in its' own right.